Let's show you easy, cheap and creative Christmas ornaments. Surely you will love the ideas and create at home to make everything even more beautiful in your home.
At Christmas everyone becomes an artisan! After all, it's really cool to create your own decorations easily and cheaply. This way, the Christmas decoration makes even more sense!
That's why we made a very special list with lots of tips, ideas and projects for you to get inspired. See how to make a beautiful decoration for Christmas without spending too much. On the contrary, saving a lot and creating a beautiful Christmas decoration for your home.
Easy, Cheap and Creative Christmas Ornaments
See how many easy and practical tips we selected for you to be inspired a lot. You will definitely want to create the ones you like the most at home.
1 – Christmas tree with ladder
You can make a beautiful Christmas ornament with a ladder. In fact, you can make your own Christmas Tree. It looks amazing. See the example below and if you liked it, get inspired to do something similar.
It looks so beautiful! Old stairs become beautiful Christmas ornaments. And see that it was just putting the shelves and decorating! What a beautiful thing. It's quite a tip to do at Christmas.
2 – Decorated letters for Christmas
Another simple and practical idea is to buy wooden letters and then decorate it by painting with a color of your choice. Above all, choose a color that suits the space you want to decorate.
In fact it is a simple way to make a delicate and very charming decoration to decorate a space in the living room or any room in the house. It is also beautiful to place on the decorated Christmas table.
3 – Santa Claus hats with fabric
How about making cute Santa Claus caps to decorate? It is very beautiful especially when we do it to decorate the center of the room. And you can even put Christmas balls to compose the decorative backdrop.
To do this, just take the paper cone mold, print it and create it with a harder fabric, such as felt. Another option is to apply stabilizer material to the fabric, if it is thinner and more flexible.
Mold
These beanies are very exuberant in the decoration of the house. If you love these different decorations to decorate your home at Christmas, you can bet on this super beautiful and different idea.
4 – Cardboard Christmas Stars
With a lot of creativity, you can make Christmas stars out of cardboard recycling. Just see, for example, how cute these little cardboard stars were.
As you can see, cardboard makes it easy to create cute decorations! Just follow this example and use your creativity! Print the mold and the craft will be even more practical to make at home.
star mold
Molds make our life a lot easier. Print and cut two sides of the cardboard star with each pattern. Then just make a light cut in the middle of each to fit and make a 3D star.
5 – Decorations with old buckets
With old metal buckets you can make beautiful Christmas ornaments to put on the stairs, for example. Eventually, when looking at the house, you may get even more space inspirations to put up a beautiful decorative composition like this.
See that all you had to do was use these decorative Christmas pine twigs and decorate with a flasher. This is in addition to the little bow with a strip of red checkered fabric. This Christmas decoration was very beautiful.
6 – Christmas wreath with hanger
You can also make a wreath in a very simple way, just using a hanger, Christmas balls and a lot of your creativity. Check out!
Just undo the hanger and turn it into the wreath mold with your arms and your own strength. Then start gluing the Christmas balls with hot glue, until you fill the entire circumference of the base with the hanger you created.
Ready! Now, just decorate it as you like and hang it on your front door. Is this garland made with a hanger base look cute or not? It's another cheap, simple, and easy-to-make Christmas ornament.
7 – Jute bow for Christmas ornament
Make a little jute bow and create a fluffy ornament to decorate your door at Christmas time. See that it is a very nice ornament to make, mainly because it is simple and practical to create.
To make a loop like this, just do the same way we teach you in this step by step with molds. It's a very similar little bow and it is also beautiful with the jute fabric.
8 – Christmas trees with wood
You can create beautiful little Christmas trees out of wood. See these examples and get inspired to create even with pallets, for example, in this project below.
Whether using an old wooden bed frame or a pallet, you can create a beautiful Christmas tree with recycling. It is rustic and charming! A beautiful example for you to create at home too.
It is also cute to create trees with branches and fabric. It's another cool way to make items that will impress everyone. After all, it's always interesting to be able to make these more delicate creations at Christmas.
See that from Christmas tree molds you can create a very beautiful ornament like this one too. Use your creativity and make beautiful projects with felt fabric, among other materials. Glue it with hot glue and you can make something amazing to decorate too.
Christmas Tree Templates
Enjoy the molds as you prefer and also create wonderful Christmas ornaments with a lot of imagination and improvisation. As soon as you start doing it, you will see that it is a real therapy to create these crafts.
9 – Christmas trees with dry branches
With dry branches you can make beautiful Christmas trees to decorate your home. Take a look at these examples and get inspired to create something that can really impress everyone who sees it.
Did you like these easy, cheap and creative Christmas ornaments? We brought it especially to inspire you on this very special date. You will certainly have a lot of cool ideas after these tips. You can also see more Christmas tips on our Pinterest!
10 = Christmas trees with tires
Even with tires you can make trees. Do this especially if you already have the tires to use or if you have an establishment that matches this idea, such as a parts store or automotive service.
The more rustic designs combine more with something outside, outside your home or establishment. It is very nice to occupy spaces because it is a tree that will certainly grow to a large size.
And see that you can also create more delicate designs too, just making the base of the tree with a tire, like in this project above. Do as you like and make your trees with tires too.
11 – Decorated cans for Christmas
Decorating cans can be quite a special thing to do at this time too. See the cute examples we've selected to inspire you on this journey of creating and crafting beautiful, easy and inexpensive Christmas ornaments.
Decorate by painting and even making rustic decorations with jute and string, creating perfect Christmas arrangements for decorating tables in your home at Christmas.
You can also make beautiful lighting fixtures like this example above. In this post we made a really cool tutorial teaching how to make these lamps with cans.
Another beautiful idea is to make a Christmas tree or a snowman out of cans. There are more creative ideas that can be perfect for creating cute Christmas ornaments to decorate the house.
12 – Christmas wreath with cardboard rolls
From cardboard rolls you can create beautiful decorations to decorate spaces in your home. You can decorate walls and also the doors of the house. It looks beautiful!
13 – Christmas ornaments with keys
You can even make cute Christmas ornaments with keys! See how beautiful these snowmen were from old keys reused and painted.
14 – Christmas decoration with wood
How about creating a very sweet Christmas decoration with wood? It's a wonderful idea to create cute Christmas decorations in that sense.
15 – Embellishments with cardboard rolls
It is also beautiful to bet on making Christmas characters, such as Santa Claus, Reindeer and Snowmen, using cardboard rolls and covering with felt. It's too cute!
16 – Christmas tree on the wall
You can make a Christmas tree on the wall with paper circles. See how beautiful a different and creative decor like this can be.
17 – Christmas tree with books
Appealing to creativity at times like Christmas is almost like a rule to be successful in decorative creations. See how beautiful this Christmas tree made of books looks!
18 – Christmas tree with ball mobile
A Christmas tree made with a mobile of Christmas balls looks beautiful and attractive! It's something that takes work to do, but at the end of the craft you'll have a beautiful item to decorate a room in the house.
19 – Christmas tree with egg boxes
Recycling egg crates to make a Christmas Tree can be a great bet too. See how beautiful this decoration is with recycling from cardboard egg boxes.
20 – Christmas tree with medical gloves
For offices and hospital environments, it is beautiful to create a Christmas Tree with medical gloves! See how amazing this idea was to make and leave an environment like this much more beautiful at Christmas.
More ornaments and decorations for Christmas
We've already given other ideas along these lines that you might like too. See more inspirations and create Christmas treats full of creativity and delicacy in confection.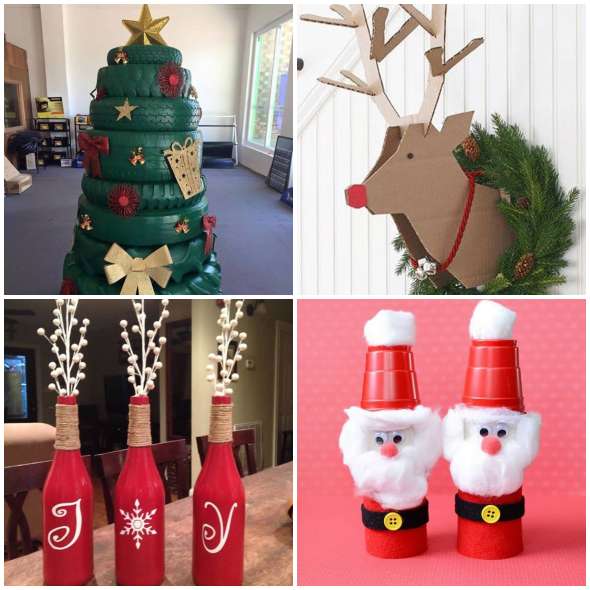 → decoration with recycling
Look how many cool ideas you can use to do with recycling. Just as they are easy, they are also…