See several beautiful ways to create delicate favors for Easter. These are simple tips that can give you a lot of cool ideas in this regard. After all, it is always good to have creative references to mirror when it comes to pampering yourself.
In fact, creating super delicate treats on Easter combines a lot to make the souvenirs. Thinking about it, we brought several cute inspirations for you to choose and create the best ones at home too.
Make it especially if you love creative souvenirs that are simple to make. These are examples that will surely inspire you a lot to create the treats of your Easter party or event.
Delicate favors for Easter

We brought several creative options that can boost the joy of the guests and especially the children, when they receive the treats!
Easter Favors

In this first example, see a beautiful plastic bucket with chocolates wrapped in plastic and with a personalized label for the party.
Creating bags with sweets, candies or chocolates is very cool too. Just as it is simple to make, it is also an item that can be too delicate to be the party souvenir.
Decorated pots for souvenirs

Recycling pots is also a wonderful option to create beautiful treats to be Easter souvenirs at your event.
You will love these ideas that we brought you to inspire you! Especially because they are simple examples of how beautiful it is to bet on recycling to make Easter souvenirs.
You can paint or even not paint the pots, as you can see in the example below. Make it the way you want it to be and create beautiful decorated pots for Easter souvenirs.
It has a lot of beautiful ideas for you to get inspired! You will surely be able to use these examples and inspirations in wonderful ways. Just mix the ideas you like best and create unique decoration items and make souvenirs.
Each project is more beautiful than the other! Make it also in a very special way and you will be able to create perfect souvenirs to distribute among the guests of your Easter party or event.
Cute favors for Easter

Look what a special idea to follow! You can decorate yogurts with the face of beautiful bunnies and make something even more beautiful in party favors.
Betting on souvenirs with fabric bags can also be very special. Simple ideas that can make any party table even more beautiful, being full of souvenirs.
Boxes with molds

A nice idea is to make paper boxes to create beautiful souvenirs for Easter. And for that, just print molds and simple models to make with paper at home. Check out these ideas!
Box 1

This box with a flower clasp is beautiful! It's another nice option for you to create beautiful souvenirs out of paper this Easter.
Mold

Print the template to make your delicate souvenir too. That way you can create incredible treats through creativity, improvisation and a lot of affection in clothing!
Box 2

Look at another cute and simple box to make at home. You can create many beautiful souvenirs that can make everyone super in love with their creative confections with paper.
Mold

This colorful mold is simply beautiful to make souvenirs the easy way. Also create especially if you love these easy ideas to make with molds.
Box 3

This treat is another beautiful model for boxes with special clasps. Now it's a box with a buckle. Super beautiful, practical and quick to make, just print the template, cut out and be happy assembling your box.
Mold

Once you have printed the pattern, just start cutting on the continuous lines. The dashed lines are for creasing and assembling your box. Always use stick glue for a better finish on your souvenir.
Box 4

This box is beautiful to put cupcakes, donuts, sweets, cookies and even other food. Make also and create perfect souvenirs for your Easter party.
Mold

This template is super simple too and can be ideal for you to create your paper boxes. See that this hollow circle in the middle is nice to pass a transparent plastic. So you make your souvenir even more beautiful!
More Easter favors

There are also these other beautiful ideas for you to make and create beautiful articles this Easter. Especially because it's always cool to be able to make these creative and inexpensive options at Easter.
→ creative Easter bags

See several beautiful examples and super inspiring ideas for creating cute little bags for Easter parties. It is also beautiful to make and distribute to the children you love, like your children, nephews, godchildren and students.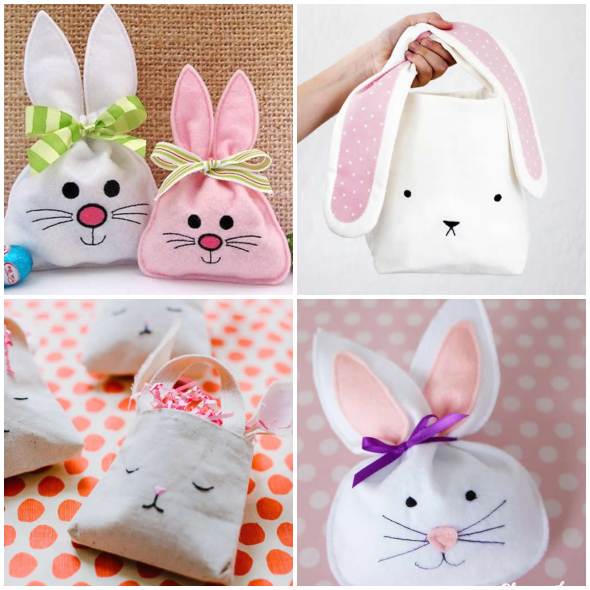 → Fabric Easter Bags

This article has a list full of cute ideas that can help you a lot in making the Easter souvenirs you want to make. It is certainly one more post that you can love to see!
→ paper carrots with molds

This article with tips and molds for making paper carrots is super cool too. It is certainly another source of inspiration that is very cool for you to mirror.
Did you like these delicate souvenirs for Easter? Now it's up to you! Do something beautiful too! Whether to distribute souvenirs at the party or even to give gifts to those you love. It will be too beautiful. Kisses, good creations and even the next ideas!
Images: ohmy-creative.com, thisolemom.com, etsy.com/ReadySetCraftKits, fashionbubbles.com, thedecoratedcookie.com, lilluna.com, thecraftedsparrow.com, hellowonderful.co, etsy.com/studiovlijt, pinterest.com & inspireblog. com.br