You will surely love these beautiful chocolate cupcakes. These are ideas that will surely inspire you a lot when it comes to making them at home.
In fact it is much cooler to be able to create your cupcakes by inspiring yourself with the tips that we have brought in this post. After all, the more references, the better for us to do something creative at the party that we are going to make the sweets.
We made quite a selection for you to have ideas and learn how to make your own cupcakes. That's right! We brought a cupcake recipe for you to make at home and create something that besides being beautiful, is super delicious to distribute among the party guests.
Learn how to make and decorate chocolate cupcakes

The coolest thing is that it has a lot of simple tips and is easy to do even for those who do not have so much experience in the subject. You can make these cupcakes to decorate tables, create souvenirs or even place orders to sell to your customers.
Chocolate cupcake recipe for decoration

See what you will need to make these delicious chocolate cupcakes. After you do, just decorate with the ideas we selected in this post.
How to make cupcakes

To make your cupcakes, you must first make the dough and also the buttercream, which is the cream that you will decorate and in addition, make your cupcakes even more delicious.
Certainly you will be able to love this recipe very much and also the decorative ideas for cupcakes that we brought. If you like the subject cupcake decoration, will love this post!
Preparation of dumplings

Let's start with the preparation of the dumplings. Just prepare the dough, bake and have the base to decorate and create your beautiful chocolate cupcakes made with great care for you.
Ingredients

3 tablespoons softened butter
2 tablespoons of cocoa powder
¾ cup of sugar tea
¾ cup of wheat flour tea
1 ½ teaspoon baking powder
1 pinch of salt
1 egg
½ cup of milk tea
Method of preparation

1. To start, preheat the oven to an average temperature of 180 ºC.
2. Put the butter, sugar, cocoa powder, flour, salt and yeast in the mixer. Remembering that the butter needs to be in the ointment point. To do this, remove it from the refrigerator in advance so that it softens.
3. With an electric mixer, beat on low speed until it becomes a wet sand texture.
4. Now, in a bowl, you should beat the egg well with and then mix the milk. Put half of this mixture in the mixer and let the speed at maximum until the dough is smooth and creamy. When this happens, slow down and add the rest of the liquid little by little, in order to incorporate it completely slowly.
5. Now transfer this dough to a pastry bag without a spout and fill the molds. Fill in only ¾ each of your own baking forms. Place in the oven at the indicated temperature (180 ºC) for about 35 minutes. To find out if the dough is at the point, test the toothpick. Just insert one in the dough, if the toothpick comes out clean, the cupcakes will be ready to remove from the oven.
Buttercream preparation

The cream that you will put on top of the cupcake is also essential to have beautiful sweets to decorate the party table. These cupcakes go great with birthday parties, weddings, baby showers, revelation teas, among other parties and special events.
Ingredients

6 tablespoons softened butter
3 tablespoons of cocoa powder
2 cups of icing sugar
3 tablespoons of milk
Method of preparation

1. Put the butter (in ointment point), the cocoa and the icing sugar in the mixer. Now beat on low speed until it mixes. Then increase and beat until it becomes a creamy consistency. Then add the milk, placing it from spoon to spoon and beating well between each addition. After that, increase the speed of the mixer to the maximum and continue beating for 5 minutes until the icing becomes a very fluffy cream.
2. Insert the icing into the pastry bag using a large pitanga spout approximately 1 cm in diameter. Cover each cupcake with buttercream in a circular motion, from the outside to the inside.
3. Decorate also using other devices, if you prefer. For example, you can sprinkle brigadeiro, among other colorful confectionery and they are ready to serve.
Stressing that you can opt for simpler and stripped decorations as well. Everything will depend on how you want your decorated chocolate cupcakes to look.
We made a wonderful selection with several cupcakes for you to be inspired when making your own at home. You will especially love it if you want ideas to do in your sweet creations too.
Chocolate cupcakes for inspiration

Create above all to make a party table much more beautiful and decorated. Because just as they are delicious cupcakes, they can also be very well decorated, although in simple ways.
See that with simplicity and creativity you can create several beautiful cupcake decorations. Improvise and also make your party even sweeter and much more fun with these delicious sweets!
You can even create a biscuit decorations on cupcakes. See how this idea, for example, got amazing and made in a simple way. It is certainly more of an idea for you to enjoy and make in your cupcakes.
Do it mainly to make the guests very amazed with your appetizing and very charming sweets, even making part of the party decoration.
Create and make any table of your party more decorated with cupcakes that besides being beautiful, will be very delicious and will make the guests happy. You Chocolate cupcakes they look beautiful and delicious! This is a fact. What a delight these are cute sweets for party.
More beautiful ideas

See more beautiful decorations to make at cakes and cupcakes. After all, the more inspiration, the better for us to do something beautiful in that sense too.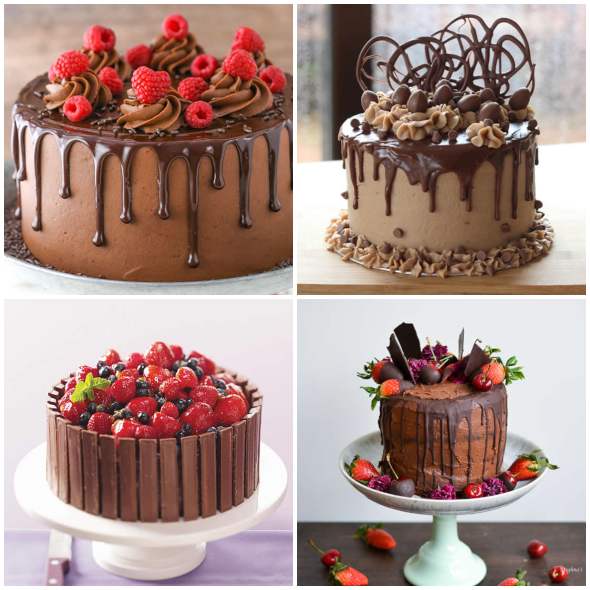 → beautiful chocolate cakes

There are also super beautiful and creative cakes in this post. It is certainly another source of inspiration for you who love to create creative party cakes and cupcakes.
→ decorated pineapple cupcakes

These pineapple cupcakes are very beautiful too. Do it mainly at tropical parties and other parties in this style. Everyone will surely love it.
Did you like these beautiful and creative chocolate cupcakes? Get inspired a lot too and make beautiful sweets at your children's party, birthday, school event or any other special celebration that you want to create the cupcakes for. Good creations and even the next tips!
Images: www.thekitchenismyplayground.com www.dessertnowdinnerlater.com www.piesandtacos.com choosingchia.com lifemadesimplebakes.com onesweetappetite.com foodcuration.org www.trendingrecipes.diaitu.com thefirstyearblog.com paleoglutenfree.com www.iheartnaptime.net www.goodhousekeeping .com www.onceuponachef.com www.indiamart.com www.sugarhero.com www.recipetineats.com www.tasteofhome.com